Aluminum Casting with Quality, Craftsmanship, and Service
Boose Aluminum Foundry: Casting with Confidence Since 1933
We've been serving loyal customers in the military, medical, robotics, power generation, and many other private and commercial sectors for four generations—and we've nurtured those relationships by delivering only the highest-quality castings with unrivaled customer service.
Experience the difference for yourself. Tell us about your project, its unique requirements, and what you expect from an aluminum casting partner. Then let's see how we can meet and exceed all of those expectations.
Our Foundry's Mission
To live by knowing that What We Do Here Matters. Not only in the products we cast, but in the relationships we build with our Customers, Employees, and our Community.
I value the relationship that we have with Boose and that we can work together on things like this, makes me feel like a customer, not a number on a spreadsheet.
Steve Eppler
,
Howard & Co., Inc.
We appreciate Boose Aluminum and the careful detailed work you all do. We are thankful the Lord sent us to your company years ago.
Just wanted to follow up on my visit to your plant yesterday. It was good to meet and tour your plant. You have a class act there and it is easy to see from the products you run your attention to detail is excellent.
Bill Edmondson
,
Production Manager, Addex
I put you in a really tough spot, and you guys obviously hustled to turn this block around in such a short time. I'm so impressed with how quickly this was done, and how responsive everyone has been. You've honestly bailed me out of a tight jam, and I sincerely appreciate it. Thanks again!
Pete Lessik
,
Air Products & Chemicals, Inc., Hydrogen Energy Systems
As you are well aware, we have been swamped for over a year and haven't been able to get caught up. The hard work and determination that BAF has provided has helped us maintain power to natural disaster areas. The main frames are very critical to us, without them we cannot produce the final product. Les has gone above and beyond to help. He has helped me increase order quantities for open purchase orders, as well as helping us receive a partial shipment for the 280C. Thank you for all the hard work. Lug-All has been able to keep the power companies up and running, hopefully mother nature is a little kinder during hurricane season. Keep up the excellent work!
Bridgette Benner
,
Purchasing Manager, Lug-All , Birdsboro, PA
Before I fade off into the sunset (hopefully on a golf course), I'll share my impressions of Boose as a supplier. Everyone I've ever dealt with there (primarily Don Beard, then Dale Sweigert) have impressed me as forthright, responsive, knowledgeable and cooperative, and the patterns and castings you've produced for us over the 30+ years I've been at Seiler have served their purposes well. Bottom line, in terms of quality, price, delivery and customer service combined, I consider Boose to be the best aluminum sand foundry we've found for castings produced to military drawings and specifications.
John LaRosa
,
Seiler Instrument & Manufacturing Co., Inc.
The Industries We Serve
Security scanning, medical imaging equipment, robotics, military & defense, pumps & valves, commercial, and industrial are just some of the industries we serve—and we're expanding every day.
The Work We Do
Since 1933, we've been providing our customers with American-made quality aluminum sand castings. We take great pride in the work we do because we know that what we do here at BAF matters. We're ISO Certified and ITAR Registered, and we're ready to apply our expertise to your next project.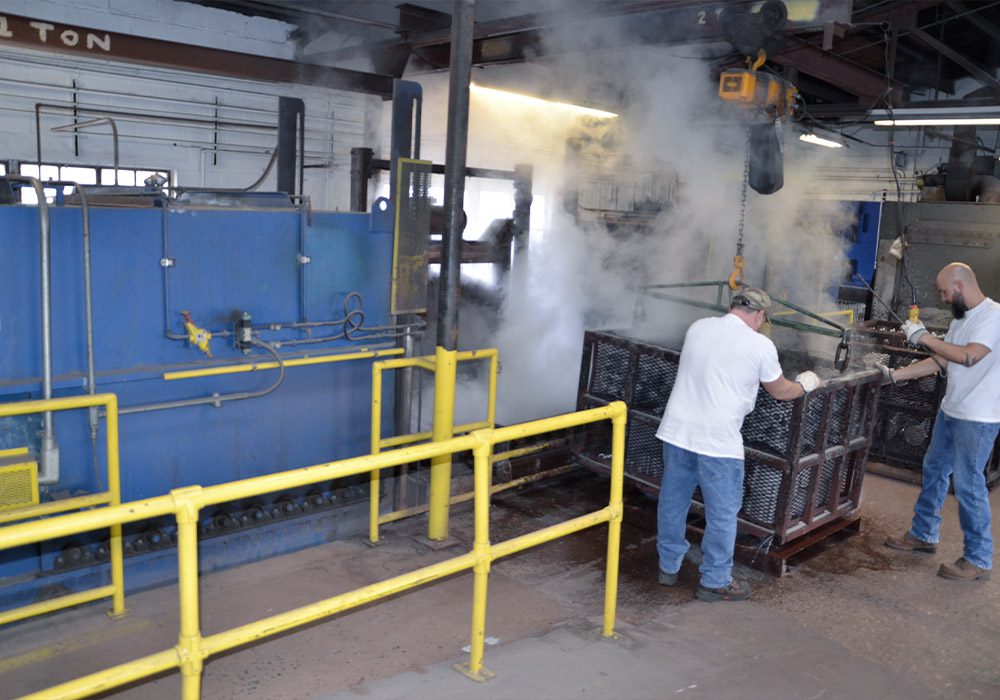 A Tour of Our Foundry
The aluminum sand casting process is one that's unique and more easily understood when seen in action. Come along with us on a video tour of our foundry or schedule an in-person tour to see it for yourself. We think you'll find it fascinating.